The Gear I'm Starting With
With all the day trips and trial trip, and the desire to travel light, I've narrowed down what I'm going cart around 100,000km Australian journey.
Luggage & Equipment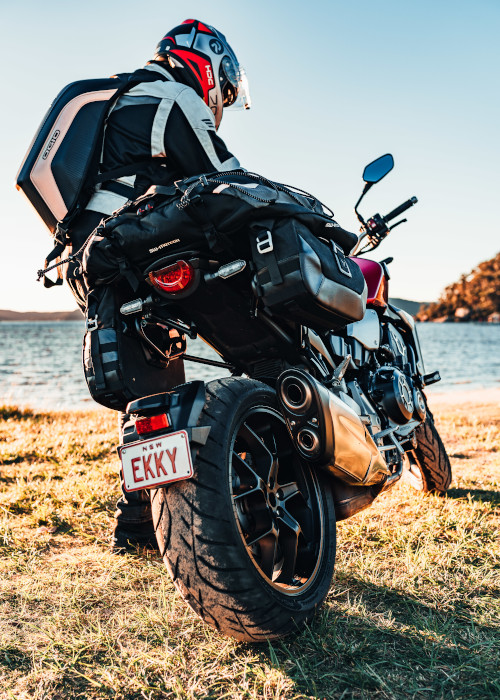 With the two panniers, I also purchased a 50 litre tailbag that doubles the amount of luggage space I'm able going to use. It also has additional tie down points for things like a sleeping map or tent if that's needed. Maybe the satellite dish, or to hold the filled fuel bladder. The tailbag should be good to store the majority of my clothes. I think I can squeeze in a towel, half a dozen shirts and several pairs of jeans in it. And won't need to wash my clothes each week, or treat my underwear as disposable.
In the smaller pannier, I'm still looking to store all my breakdown stuff and tools. I'm thinking that I'll carry some gelatine snacks in case I get stuck in the middle of nowhere, additional water for hot days and to create a barrier between the muffler and anything that might melt or explode. There aren't many tools that I can use on the side of the road, but I'm planning to take a spanner set, a set of Allan keys, and a couple of screwdrivers. I'm still unsure if that'll be enough, but I can always buy more. I was also going to squeeze in there an air compressor and a can of tyre inflator for when the air compressor won't cut it.
In the larger pannier, I'm trying to fit in a hiking micro sleeping bag, travel pillow and a pair of walking shoes. My riding boots are not that uncomfortable to walking in, but have a flat sole. While this is better for riding, as the knobby soles can get caught on the bike's foot pegs, walking on slippery surfaces like mud, or wet grass is almost impossible
Toiletries are simple:- razor, toothbrush, and deodorant are the essentials. The only difficulty is using the razor without fresh clean water, where a dry electric shaver would be better. Or I could just get used to my stubble rubbing against the helmet padding. Not sure, but I should be able to get a travel shaver if needed.
Electronic
My backpack will likely be filled with my laptop, compact camera, drone, umbrella and jumper if needed. I can use my mobile phone as the GPS. I have added one USB-A port on the bike, and I can charge everything but the laptop with that. The drone has a three batteries that can be used to recharge other device such as the camera or mobile phone.
I wanted to get a Starlink satellite dish to use as my primary internet access, as relying on 4G mobile access is both expensive and not always available. I wasn't sure if riding around with a satellite on my back would make me look it Captain America, or not. But in the end, Starlink's mid to late 2021 is now looking more like early 2022, and I am not going to wait.
Conclusion
I'm trying to pack everything up and go before the end of July. In Northern Australia, the wet season will start about the beginning of November, which means I need to get to Broome by the end of October. That gives me three months to explore the tropical north it gets too hot.
Also I'm trying to leave enough space in my luggage to carry everything that I've forgotten. And it will be interesting to see just how well my preparation has been. When I finish my trip, I'll come back and write the advice I wished I had been given before I left.